The idea for my "I Fall for Autumn" collection has been floating around in my head for a while. Autumn is by far my favorite season…the colors, the smells, the need for sweaters…everything about it is just wonderful. So, it's only natural that I should put together a surface pattern collection on the subject. However, it wasn't until taking Bonnie Christine's online class "Design Surface Patterns from Scratch"on CreativeLive that I finally put the idea into action.
I am very familiar with the steps involved in making a repeated pattern, I do it a bit different than what was taught, but I'm always excited to take classes and learn new things. CreativeLive has been a great resource and I did learn quite a few tips and tricks from Bonnie's class…more specifically the blob tool in Illustrator, which is very fun to work with. I highly recommend playing around with it if you've never used it before. The blob tool gives you a more organic quality to shapes as opposed to the more technical finish of the pen tool.
As part of the class there was an (optional) assignment to develop your own collection using the surface pattern development process discussed. This was my moment to finally create my Autumn inspired patterns!
I made my mood board…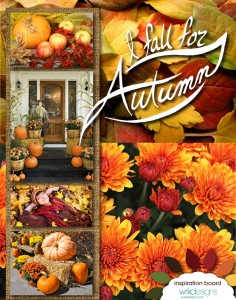 Played with possible colorways…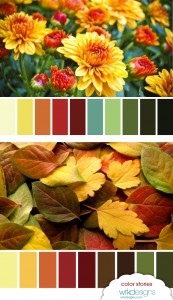 And did lots of sketching and computer work…
I really enjoyed the class and, even more so, the end result of my "I Fall for Autumn" collection, which I developed into two separate colorways — Autumn and Everyday. Both colorways are available for instant download on my WRK Digitals Etsy Shop as digital paper kits.
Check out my "I FALL FOR AUTUMN" digital paper pack: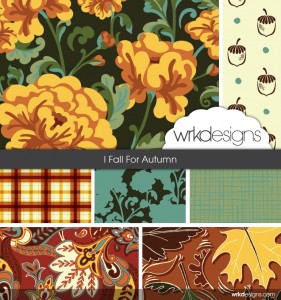 Check out my "I FALL FOR AUTUMN – EVERYDAY" digital paper pack: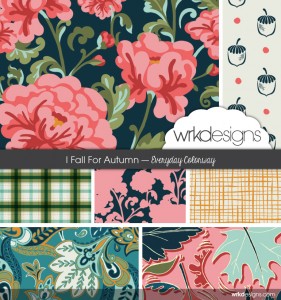 So, if you like what you see and have your own project in mind for the patterns you can head over to my WRK Digitals Etsy Shop and purchase the instant download digital files. Each file is 12" x 12" at 300dpi in a seamless and tileable jpg file…making the creative possibilities endless!…but some ideas include: digital scrapbooking, card design, invitation design, paper crafts, birthday party decorations, holiday crafts, branding for your website/Etsy shop, and so on and so forth.