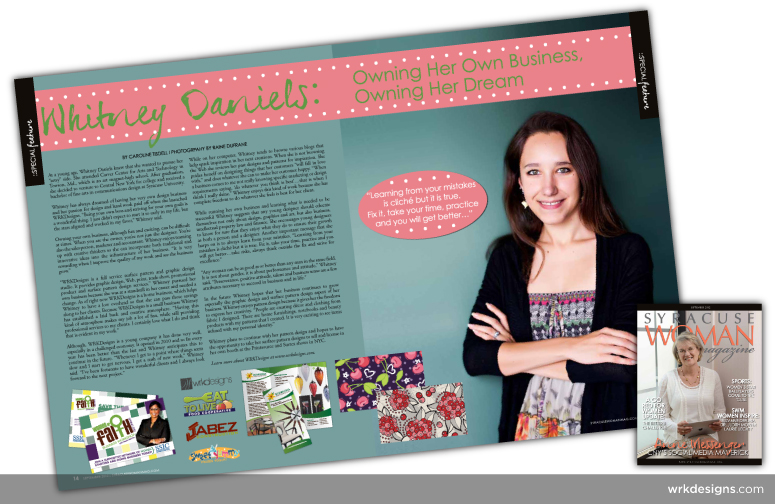 This feature, on me and my company, originally ran in the September 2012 issue of Syracuse Woman Magazine. You can view the article on the SWM website here.
---
Special Feature: Whitney Daniels
By Caroline Tisdell
At a young age, Whitney Daniels knew that she wanted to pursue her "artsy" side. She attended Carver Center for Arts and Technology in Towson, Md., which is an art magnet-high school. After graduation, she decided to venture to Central New York for college and received a bachelor of fine arts in communications design at Syracuse University.
Whitney has always dreamed of having her very own design business and her passion for design and hard work paid off when she launched WRKDesigns. "Being your own boss and striving for your own goals is a wonderful thing. I just didn't expect to start it so early in my life, but the stars aligned and worked in my favor," Whitney said.
Owning your own business, although fun and exciting, can be difficult at times. When you are the owner, you're not just the designer. You're also the sales person, marketer and accountant. Whitney enjoys teaming up with creative thinkers so she can incorporate both traditional and innovative ideas into the infrastructure of her business. "It is very rewarding when I improve the quality of my work and see the business grow."
"WRKDesigns is a full service surface pattern and graphic design studio. It provides graphic design, Web, print, trade show, promotional product and surface pattern design services." Whitney pursued her own business because she was at a standstill in her career and needed a change. As of right now WRKDesigns is a home business, which helps Whitney to have a low overhead so that she can pass those savings along to her clients. Because WRKDesigns is a small business Whitney has established a laid back and creative atmosphere. "Having this kind of atmosphere makes my job a lot of fun, while still providing professional services to my clients. I certainly love what I do and think that is evident in my work."
Although, WRKDesigns is a young company it has done very well, especially in a challenged economy. It opened in 2010 and so far every year has been better than the last and Whitney anticipates this to continue in the future. "Whenever I get to a point where things seem slow and I start to get nervous, I get a rush of new work," Whitney said. "I've been fortunate to have wonderful clients and I always look forward to the next project."
While on her computer, Whitney tends to browse various blogs that help spark inspiration in her next creations. When she is not browsing the Web she reviews her past designs and patterns for inspiration. She prides herself on designing things that her customers "will fall in love with," and does whatever she can to make her customer happy. "When a business comes to me not really knowing specific marketing or design requirements saying, 'do whatever you think is best'…that is when I think I really shine." Whitney enjoys this kind of work because she has complete freedom to do whatever she feels is best for her client.
While running her own business and learning what is needed to be successful Whitney suggests that any young designer should educate themselves not only about design, graphics and art, but also business, intellectual property law and finance. She encourages young designers to know for sure that they enjoy what they do to ensure their growth as both a person and a designer. Another important message that she harps on is to always learn from your mistakes. "Learning from your mistakes is cliché but it is true. Fix it, take your time, practice and you will get better…take risks, always think outside the fix and strive for excellence."
"Any woman can be as good as or better than any man in the same field. It is not about gender, it is about performance and attitude," Whitney said. "Perseverance, positive attitude, talent and business sense are a few attributes necessary to succeed in business and in life."
In the future Whitney hopes that her business continues to grow especially the graphic design and surface pattern design aspect of her business. Whitney enjoys pattern design because it gives her the freedom to express her creativity. "People are creating décor and clothing from fabric I designed. There are home furnishings, notebooks and beauty products with my patterns that I created. It is very exciting to see items infused with my personal identity."
Whitney plans to continue with her pattern design and hopes to have the opportunity to take her surface pattern designs to sell and license in her own booth at the Printsource and Surtex shows in NYC.
Learn more about WRKDesigns at www.wrkdesigns.com.
---
Photo by Raine Dufrane